When it comes to social media marketing strategies, the sky is the limit. With so many options available, it can be hard to narrow your marketing campaign to the right strategy.
Here at Formation Media, we created an actionable starter guide that will help you learn about marketing on three social platforms: Quora, Instagram and Pinterest.
Our guide will provide tips for marketing on social media to help you craft the best strategy.
Why Social Media Marketing is Good?
Website visitors will not always search for your business; more often than not, you will have to actively find ways to attract customers back to your website. And, of course, there are multiple ways for prospective clients to find your website:
Here are examples of two:
Direct traffic – they could arrive on your site by typing in your business name or website URL into a browser:

Although, that would mean they are already a part of your audience. Therefore, their website visits won't help you boost your traffic to a higher amount than it already is. These types of website visitors are what we call return visitors.
Paid traffic – they could access your site through one of your paid ads, whether it be a Google Ad, a Facebook Ad or even a Bing Ad. However, paid ads can be expensive. The second you run out of money, your paid traffic will run out, too.
There is an alternative to these two methods: social traffic. What is the benefit of social media marketing? Well, social media enables you to follow the activities of your consumers. That can help you make more informed decisions based on factors such as interests; likes and dislikes.  
3 Strategies for Social Media Marketing
1. Quora Social Media Marketing

Think of Quora as the more mature version of Yahoo Answers.
If you are not aware, Quora is a question-and-answer (Q&A) website, where Internet users can ask; answer and edit questions from a wide variety of topics. Furthermore, as a Quora user, you are given the freedom to answer questions based on your facts or personal beliefs. Whatever you choose.
Quora's platform can help you to establish brand authority in your industry. You can gain the attention of prospective clients by simply answering people's questions.
You can answer questions on anything from artificial intelligence to Zumba Fitness. 
What makes Quora such a useful social media platform for marketing, however, is the sheer number of Internet users on it. Every month, 300 million users browse through Quora, in search of the answers to their questions.
You may possess some of those answers.
If you can provide the answers to Quora questions, you can establish an easy way to connect your brand to the right audience, at the right time and in the proper context.
If you want to locate the right audience, start by searching for topics and spaces to follow. To search for a topic to follow, you can use the search box at the top of every Quora page.
Type in a keyword that is relevant to your business and Quora will provide you with suggestions on the topics and spaces you should follow.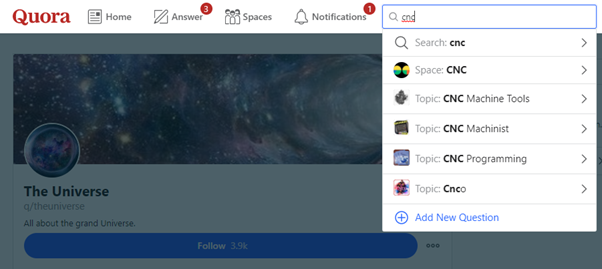 The questions you have yet to answer show up under the answer tab. If you follow the topics and spaces related to your business, you will more than likely receive the questions that you know the answers to.
Quora is an excellent way for you to establish your brand's authority in your industry or niche.
2. Instagram Social Media Marketing
Social media marketing strategies are not as straightforward as you may have been led to believe, but there is power in effectively gathering a social media audience.
So, it would be a gross understatement to say that Instagram is a wide-reaching platform.
You may not find it surprising that Instagram is an excellent platform for businesses to build brand awareness and connect with customers.
The question is, how does one begin an Instagram social media marketing strategy?
Well, just as every marketing strategy focuses on the mapping of a target audience, Instagram marketing is no different. Instagram is quite a crowded place, and so to efficiently market on it, you will need to make sure you reach out to the right audience.
Age; location, gender and interests are some of the factors you may want to consider when marketing on Instagram.
Interest is an essential factor. A key question to always ask before moving forward on an Instagram marketing strategy is:
'Who would be most interested in the products/services I am supplying?'
There are many ways you can go about searching for your target audience on Instagram.
Learn from your competitors – you could start by looking into their Instagram audience. See what kind of posts they publish to their feed, and what kind of people follow them. Doing this will provide you with a clearer picture of who your Instagram target audience is.
You need to be aware of what intrigues and drives your followers; if you aren't aware, you'll find it hard to produce the right content for maximum engagement.
Take part in the relevant discussions – you can do this by conducting social listening.
What is social listening?
You can use online tools such as Sprout Social to carry out social listening.
Leverage the power of hashtags – hashtags are the bread and butter of Instagram marketing. The right hashtags can help you to get your brand in front of the right audience.
Additionally, you can also use online tools such as RiteTag to search for the popular hashtags in your industry.
Ideally, your target audience should share the interests of your brand; this means that on Instagram, they are likely to follow the hashtags relevant to your industry.
If you target the right hashtags, you'll, hopefully, meet your prospective clients halfway.
Instagram stories marketing tips
Last but not least, another useful feature on Instagram is Instagram Stories. Now, you may not be aware of Instagram stories, so I'll give you a brief explanation of what it is:
Instagram Stories is a feature on Instagram that allows you to capture and post your image and video content in a slideshow format. You can customise your images and video clips with text, drawings and emoticons.
Recently, many businesses have begun to leverage Instagram stories as a way to connect with customers.
Here is one example of a business using relevant Instagram Stories effectively.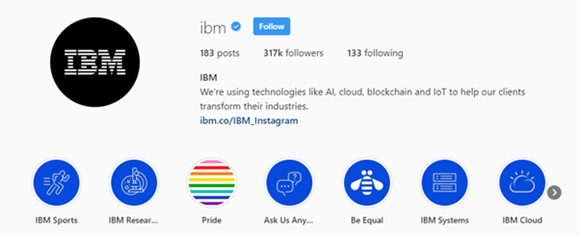 Why are companies like IBM using Instagram Stories as a marketing tool? The answer is straightforward:
Instagram Stories is one of the best ways to get in touch with your followers in a more personal and 'behind the scenes' approach.
3. Pinterest social media marketing
Pinterest is the one platform that completely stands out in the social media universe.
Unlike Facebook, Twitter and Instagram, the end goal on Pinterest is not to start a conversation in the comments. The end goal is to persuade users to "Pin" your content.
Pinterest is a social media platform that allows you to explore, share and archive visual content – content you find helpful; inspiring or entertaining. You can pin the visual content you like onto boards that share a common theme.
Users can discover the content related to their interests by browsing these relevant boards.

So, why are businesses using this social media site to increase brand awareness?
Contrary to the posts you may find on alternative social media sites, Pinterest pins are, quite frankly, immortal.
As long as it is relevant to their search, one of your pins could show up on a user's feed for weeks, even months, after you originally pinned it.
According to WebFx, the half-life of a Pinterest pin is around 3.5 months, 1,6000x longer than a Facebook post.
To sum up this statistic in a couple of words:
If you can master it, Pinterest will help you to maximise your brand awareness.
It must also be noted, not every user on Pinterest is focused solely on browsing; some are there to buy products. They are not merely on Pinterest for inspiration but are actively using Pinterest to make purchasing decisions.
Still unsure whether or not Pinterest is a suitable site for marketing? Then, you might also want to read these statistics:
Now, that we have explored the benefits of Pinterest, it's time we answered the question:
How does one effectively market on Pinterest?
Here are some Pinterest marketing tips to bear in mind when marketing on Pinterest:
Create searchable content – if your content is unsearchable, pinners will rarely find it. Before you pin any content onto a board, you have first to understand what your target audience is searching.
Doing so will help you to create popular pins that resonate with pinners more. Additionally, when you are aware of which categories are popular and which aren't, you can gain a better understanding of which boards will work for your business.
However, you want to do more than just target popular categories; you also want to target the categories that are relevant to your company.
So, if your company specialises in CNC machining, then you probably don't want to create a board dedicated to wedding dresses. Choose the right categories for your content. 
Use infographics – the popularity of infographics lies in their value. Many businesses use infographics as a compelling and eye-catching way to provide information to Pinterest users – you can, too.
Say, you owned a DIY business. You could, for example, use an infographic to share your knowledge on the differences between cordless and corded drills.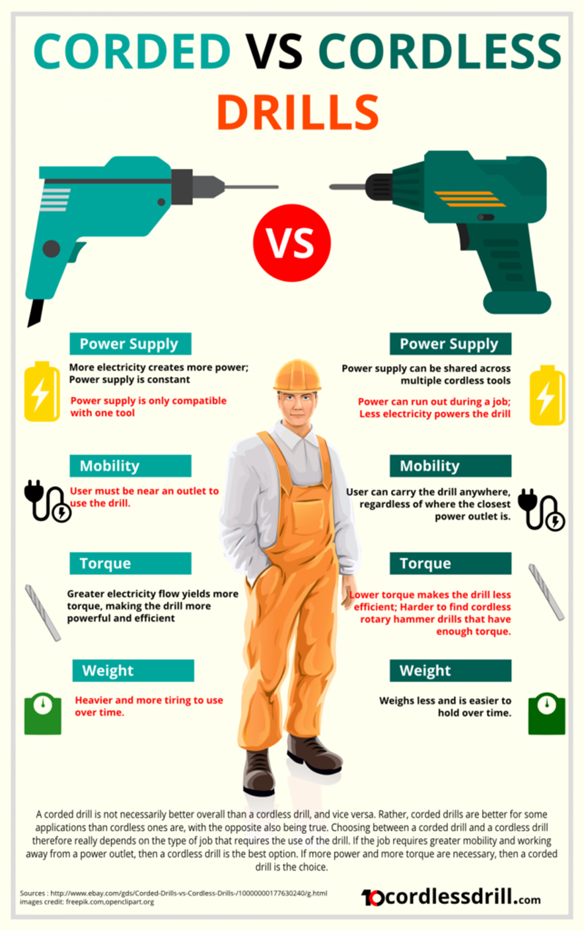 It's easier to grip the attention of your readers through a visually attractive infographic than it is through a wordy piece of text.
Secondly, it is easier to share infographics around the Internet, because they are very embeddable and portable. Put your business logo and URL on an infographic you created, and every time a Pinterest user shares it on the Internet, that is more brand awareness for you.
Social media is one of the best ways for businesses to rejuvenate their marketing strategy. As the number of social media websites rise, it can be challenging to choose the right ones to market.
Some platforms may not work for your business as effectively as others do. To find the right social media site for marketing, it will take a lot of experimenting on your part. 
If you want to break into the universe of social media marketing, Quora, Instagram and Pinterest would be good places to start.
Choosing the right platforms, however, is only the start. From there onwards, you'll need to determine what type of content you post, how regularly and the goals you want to work towards on each platform.
Our team would be more than happy to help you with all of that.